<BR>Feast on KETR Thanksgiving programming!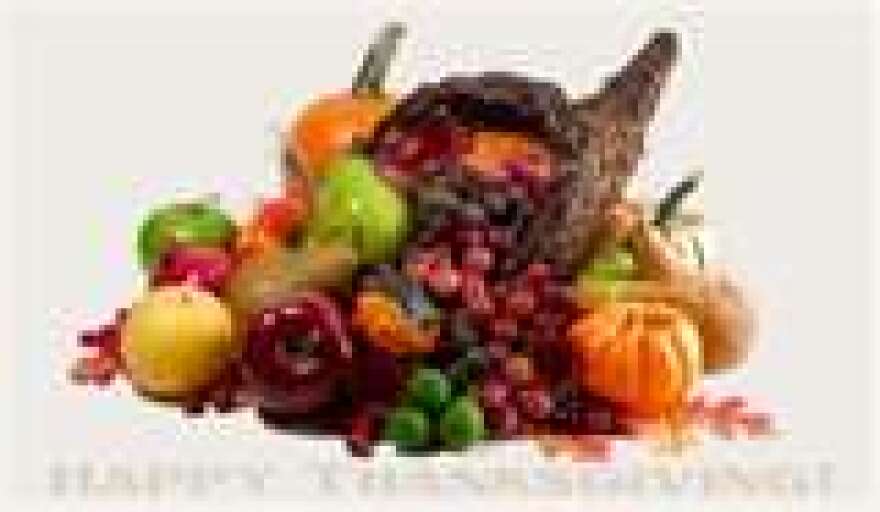 KETR-88.9 FM and online at ketr.org has scheduled special Thanksgiving programming.Join KETR for special programming on Thanksgiving and the day after Thanksgiving.
THANKSGIVING ON KETR 88.9 & ketr.org:
9-10 a.m. Anonymous 4 Thanksgiving Special 2007
For two decades, the Anonymous 4 has delighted audiences with their mesmerizing acapella versions of medieval music, but for this special Thanksgiving program, their attention is focused on a distinct American sound. From lyric folk ballads like "Wayfaring Stranger" and revival songs like "I Shall Be Satisfied" to gospel favorites like "Sweet By and By", this program is the perfect compliment to this uniquely American holiday. The Anonymous four are joined by Darol Anger playing fiddle and mandolin, along with guitarist Scott Nygaard.
10 a.m.-noon The Splendid Table's Turkey Confidential
Two hours of Thanksgiving morning triage for cooks across the nation. Lynne Rossetto Kasper, will be taking your calls in this live, two-hour broadcast when you need it most, on the biggest cooking day of the year. The lines open for your calls or you can e-mail your questions. Copy this website address and paste in your Internet browser: http://splendidtable.publicradio.org/
noon-2 p.m. Giving Thanks
As Thanksgiving brings family together to share common blessings, Giving Thanks brings classical music and stories together in a thoughtful, contemporary reflection on the meaning of the holiday. John's special guests this year include: Calvin Trillin, best-selling humorist for The New Yorker, Anna Quindlen, Pulitzer prize winning author and columnist for Newsweek, Lynne Rossetto-Kasper, host of The Splendid Table, Bill Holm, Minnesota poet and guest on Prairie Home Companion, and Ellen Kushner, host of Sound and Spirit.
2-4 p.m. A Prairie Home Companion
KETR presents an encore presentation of the November 17th broadcast.
4:06-4:45 p.m. Car Talk
KETR presents a special Car Talk broadcast intended as a reminder to support KETR with your financial contribution. However, this is a perfectly sized episode because General Manager Bill Oliver had to schedule something to fit around a basketball game that starts at 4:45.
4:45 pre-game for Texas A&M University-Commerce women's basketball
From Topeka, KS, Bill Oliver brings you the Lions ladies from a pre-conference tournament from Washburn University. A&M-Commerce plays Rockhurst University from Kansas City.
8-10 p.m. National Heritage Thanksgiving Concert
The National Heritage Fellowships are presented by the National Endowment for the Arts to folk and traditional artists who have demonstrated the highest artistic achievements in their respective disciplines. WDUQ (the station that provides KETR with Swingin' Down the Lane) presents a two concert that is the culmination of Heritage Week. The concert features outstanding representatives of their respective art forms. The blues, bluegrass, and gospel - they all converge on the stage of The Music Center at Strathmore for this festive event.
FRIDAY AFTER THANKSGIVING, NOVEMBER 23rd:
6 a.m.-2:45 p.m.
KETR gets you in the Christmas spirit with happy holiday music.
2:45 p.m. pre-game for Texas A&M University-Commerce women's basketball
Bill Oliver returns as the Lions ladies play the hosts at the second game of a pre-conference tournament at Washburn University in Topeka, KS. Last March, A&M-Commerce defeated the Lady Blues in the South Central regional final to advance to the Division II Elite Eight.
6-7 p.m. encore Anonymous 4 Thanksgiving Special 2007
7-9 p.m. encore Giving Thanks
9-10 p.m. NPR Tinsel Tales
This year a new radio tradition - stories from the NPR archives that touch on the meaning of Christmas. David Sedaris, Bailey White, John Henry Faulk--these and other NPR voices, past and present, tell stories of the season.