Mayo Hall at A&M-Commerce<BR>now a memory
In less than two weeks, the fifth oldest building at Texas A&M University-Commerce was no more. Demolition began Monday, February 11, 2008 on the fifth oldest building at Texas A&M University-Commerce. By February 22nd, all that remained of Mayo Hall was a small dozer inside a big hole surrounded by a large fence.
Mayo Hall was filled with lots of testosterone in its heyday. Opened in 1936 as the Boys Dormitory, its occupants included football, basketball, and track teams that earned many championships and school records. Mayo also served as home base for a ROTC unit and, during the early '40s, a special Army training unit that would go on to fight in some of the bloodiest battles of World War Two.
Built at a cost of $115,000, much of which came from the Public Works Administration, the hall accommodated 70 students and contained a cafeteria and rec room. Mayo Hall was closed nearly 25 years ago but attempts were made to convert the building into faculty apartments. University President Dr. Keith McFarland told those at the spring faculty/staff meeting it was not financially feasible to remodel.
Before demolition could proceed, officials had to get permission from the Texas Historical Commission because Mayo Hall was placed on the National Register of Historical Places, and crews had to remove areas containing asbestos and lead paint.
The four oldest buildings in use at A&M-Commerce are Ferguson Social Sciences Building (1923), Heritage House (1928), Hall of Languages (1929), and Whitley Gymnasium (1935).
1st two pictures courtesy of Texas A&M University-Commerce.
In happier days, the main entrance to Mayo Hall.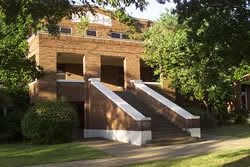 A wide shot of Mayo Hall.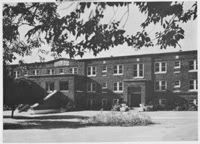 Before demolition could begin, portions of Mayo Hall containing asbestos and lead paint had to be removed.

The next 3 pictures were taken by KETR General Manager Bill Oliver as demolition began.
The first perspective is looking west from Monroe Street.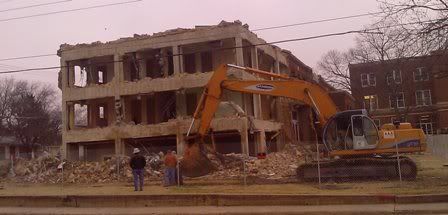 A closeup of the east side of Mayo Hall.

Here's a wide shot, where you can still see the dust fly.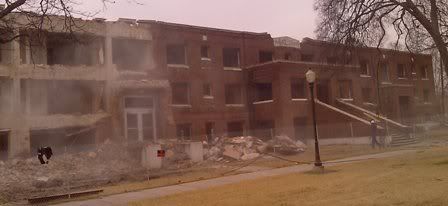 The next 3 pictures were taken by Paul Bryan of the A&M-Commerce Marketing Communications Office.
Why is this construction worker running?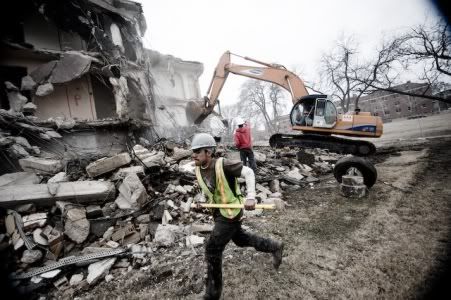 Part of the demolition process is keeping water on the falling debris.

Paul is looking down a hallway, into the teeth of demolition equipment!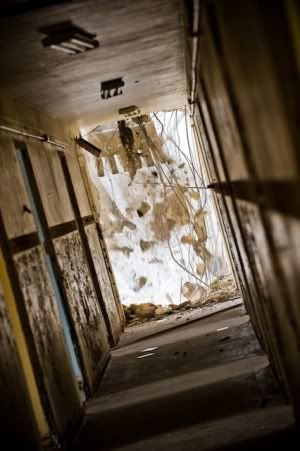 Mayo Hall is the third building to be razed during the 2007-2008 academic year, following the Century House apartments and Hubbell Hall. Still under construction are the new Memorial Student Center, Alumni Center, and renovation of Gee Lake. Completed earlier was the walking mall, and to come later this year is groundbreaking on the new A&M-Commerce Music Building.