This topic curates the ongoing coverage of stories related to the Keystone XL/TransCanada Pipeline.
TransCanada stocks drop after KXL delay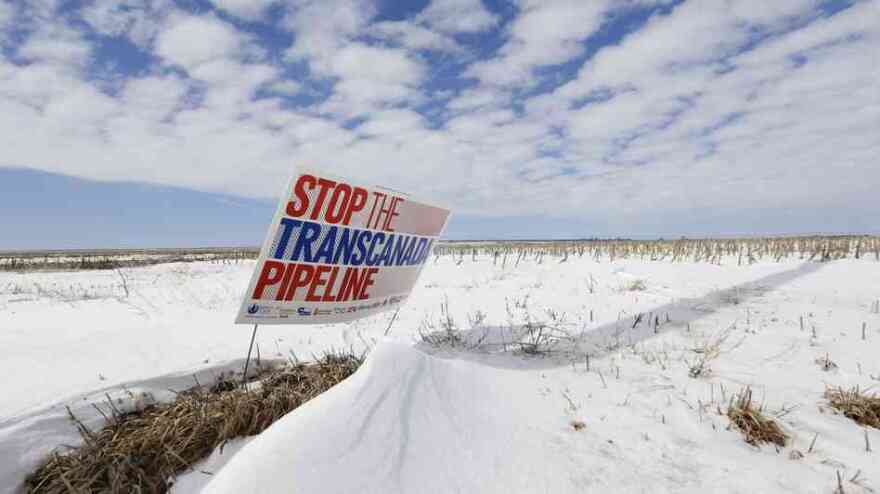 The Obama administration's slow movement on the Keystone XL pipeline appears to have caused TransCanada Corp.'s stock to drop sharply.
Bloomberg reported TransCanada's stock down 3.78 percent at noon ET on Apr. 21. That's the sharpest one-day drop in two years for the Canadian petroleum company.
On Apr. 18, the U.S. State Department announced that it would delay its decision on the northern leg of TransCanada's Keystone XL pipeline until after a Nebraska court ruling concerning the project.
The Nebraska Supreme Court must decide whether Gov. Dave Heineman had legal authority to approve the Keystone XL pipeline in that state. Landowners along the route brought suit against the state and won their case in a lower court, which ruled that the approval must come from the Nebraska Public Service Commission, an agency established in the 19th century during the appropriation of lands for railroads.
"The entire reason to have a Public Service Commission is to avoid public favors to carriers," said Dave Domina, the attorney representing landowners opposed to the pipeline. "It was created in 1885 to avoid political favors to railroads and the same idea applies here."
The northern leg of the Keystone XL pipeline would transport tar sands crude from Alberta, Canada, to southeastern Nebraska. It requires State Department approval because it crosses an international border. The southern leg, which runs from Cushing, Okla., to the Texas Gulf Coast, is already operative, though it currently carries the more usual type of crude oil.
The State Department had said that the Nebraska case would not affect the timeline for its decision on the project. However, last week, the State Department reversed that position.
"Agencies need additional time based on the uncertainty created by the ongoing litigation in the Nebraska Supreme Court which could ultimately affect the pipeline route," the State Department said in a statement.
Supporters of the $5.4 billion project expressed frustration with the continued delay.
"This decision is irresponsible, unnecessary and unacceptable," Senate Energy and Natural Resources Committee Chairman Mary Landrieu, a Louisiana Democrat, said.
If the State Department waits on Nebraska, many observers feel that would push the decision until after the November 2014 mid-term elections, possibly as far ahead as early 2015.
The issue has been a difficult one for elected officials and political candidates. Most Republicans in federal government support the project, though libertarian elements in the party's base question the projects appropriation of private land. Many Democrats in Washington and elsewhere oppose Keystone XL for environmental reasons, though some mainstream organized labor groups support the project for reasons of economic development.
Bloomberg reported that a senior State Department official said in a conference call with reporters the delay wasn't to avoid a politically sensitive decision before the election that will determine control of Congress.