No Looking Back for Charlie & The Regrets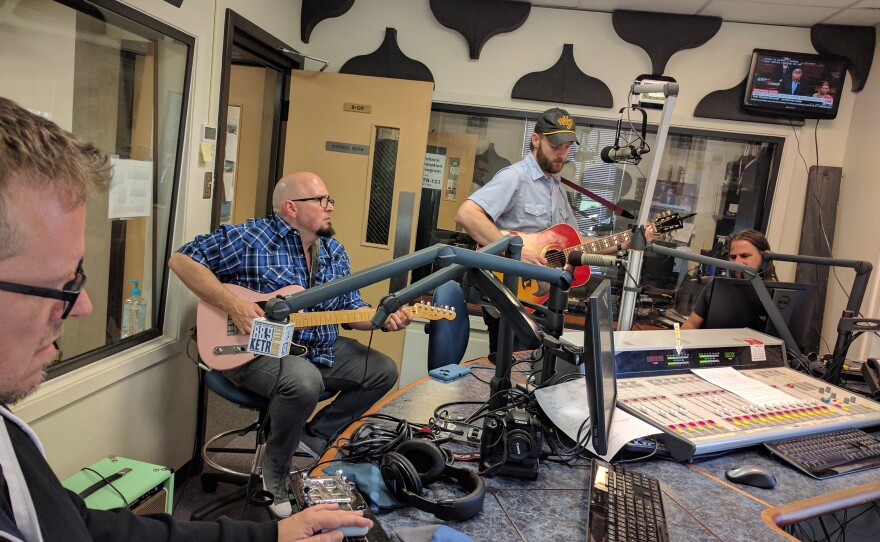 Charlie & The Regrets performing a song in the KETR Studios. (Left to right) Lap Steel Guitarist Willy Golden, Lead Guitarist John Shelton, Singer & Guitarist Charlie Harrison, and Bassist/Backup Vocalist Mark Riddell.
Matt Meinke
Guitarist John Shelton and Singer Charlie Harrison during an in-studio song recording.
Matt Meinke
Charlie Harrison is quickly making a name for himself as a rising singer/songwriter to follow. Flanked by a talented and versatile band, Houston's Charlie & The Regrets are taking their sounds across Texas in support of their "Rivers In The Streets" album.
Charlie and company spoke with Notably Texan before a Commerce gig, and talked about the band's roots, the twists and turns that led to Charlie's foray into music, and the band's songwriting process.
Details about the band's tour schedule and more available at their website.
For in-depth interviews with the movers and shakers of Texas music, and eclectic playlists heard nowhere else, listen to Notably Texan weekdays from 11 am to 2 pm on KETR.