Kicker accuses WT football staff of facilitating academic fraud
West Texas A&M University officials confirmed on Oct. 27 that school administrators are investigating the university's football program after a former player alleged that his parents took an online Spanish test for one of the team's top players.
A detailed report in the Amarillo Globe-News said that sophomore Jose Azarte Jr., a backup placekicker for the Buffaloes, claims that he and his Spanish-speaking parents completed Spanish class assignments for starting wide receiver Anthony Johnson.
Azarte told the newspaper that in May, West Texas A&M wide receivers and special teams coach Joel Hinton asked Azarte to help Johnson pass the class. Azarte also provided the Amarillo Globe-News with electronic documents, including desktop computer screen shots and mobile device text messages, that Azarte said provided proof that his parents completed an online test for Johnson and that Hinton facilitated the fraud.
Azarte claimed that Hinton initiated the arrangement in May and that the fraudulent course work was completed in June, the report said. Phone calls from the paper to Hinton were not returned, the report said.
Azarte also told the newspaper that he asked West Texas A&M head football coach Mike Nesbitt for a release from the team on Oct. 12 and was denied. Azarte and his parents met with athletics director Michael McBroom on Oct. 13 and reported the incident to the NCAA Oct. 14-15, the report said.
Johnson played in the following game, a 48-21 loss at Texas A&M University-Commerce on Oct 18.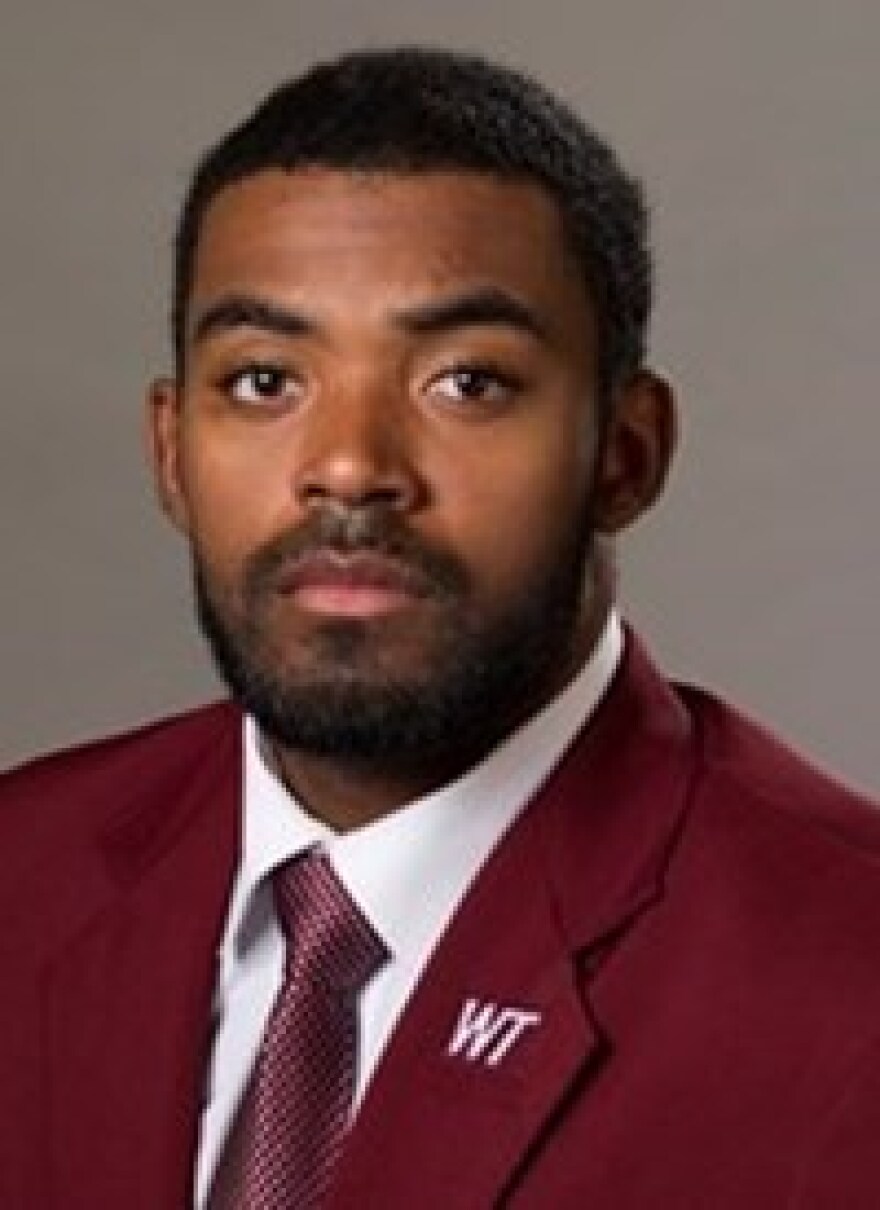 Azarte told the Globe-News that he and his parents met with West Texas A&M administrators on Oct. 20 before bringing their story to the newspaper on Oct. 21.
Johnson did not play in the next game, a 48-21 victory over Texas A&M University-Kingsville in Canyon on Oct 25. McBroom confirmed a university investigation into the matter on Oct. 27.
It remains unclear whether the NCAA is investigating the incident as well as West Texas A&M. The NCAA declined a request for information from the Amarillo Globe-News and university staff would not comment on the matter of NCAA involvement.
Apparently, the newly re-ignited rivalry between West Texas A&M and A&M-Commerce was a topic at the Oct. 20 meeting between the Azarte family and university staff. The Globe-News reports that newspaper staff watched a video of the meeting recorded by Azarte's parents with the permission of university staff. Toward the end of the meeting, the paper reports that McBroom asked Azarte whether any Texas A&M University-Commerce staff had been in touch with Azarte.
"I have to move to another topic," McBroom said. "It's another potential NCAA violation we have to look into. You know what question I'm going to ask. Has anyone from Texas A&M-Commerce or Don contacted you?"
Azarte replied no.
McBroom fired former West Texas A&M head football coach Don Carthel in August 2013 after Carthel provided inconsistent information regarding the purchase of Texas Rangers baseball tickets for two student-athletes. Don's son Colby, a former defensive coordinator on his father's staff, was hired as head football coach at A&M-Commerce in Jan. 2013. Several current Lions athletics staff have ties to West Texas A&M.