This page curates KETR's news stories related to Texas A&M University-Commerce.
Lions win LSC with 27-14 defeat of Midwestern St.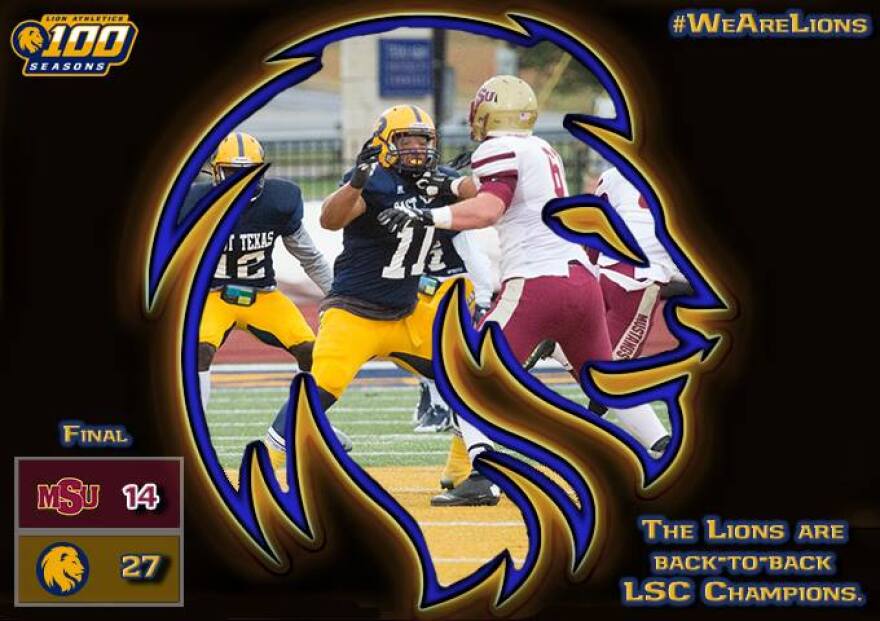 No one expected winning a second consecutive Lone Star Conference championship to be easy. And it wasn't. But Texas A&M University-Commerce secured back-to-back league titles with a 27-14 defeat of Midwestern State University at Memorial Stadium on Oct. 24.
The Lions built a 21-0 advantage in the first half and endured a second-half push from the Mustangs' offense to earn a hard-fought victory that also highlighted homecoming festivities in Commerce. The Lions (7-1, 6-0) recovered two fumbles and caught three interceptions, which ended up making the difference in a game wherein both teams compiled similar offensive totals.
In the fourth quarter, Midwestern State (7-1, 4-1) , which had outscored A&M-Commerce 14-6 in the second half, began a final comeback attempt with the ball at its own 35-yard line and 7:10 remaining in the game. But an interception at the Lions' 19 by senior safety Darian Lindsey gave A&M-Commerce the ball back with 4:16 on the clock, thus essentially putting the game out of reach for the Mustangs.
Lights-out defense and efficient offense in the first half gave the Lions a three-touchdown lead at the break. Midwestern State netted just 129 yards of offense in the first half. Touchdown receptions by junior wide receiver Lance Evans and sophomore receiver/return specialist Buck Wilson, along with a touchdown run by short-yardage quarterback Gabriel Rodriguez, a sophomore, provided the scoring for A&M-Commerce. Junior running back Richard Cooper (21-100) gained 69 of his yards in the first half on 12 carries. Senior quarterback Harrison Stewart (11-20-0, 193, 1 TD) also compiled most of his yardage before halftime, thanks in part to a 55-yard toss to sophomore wideout Darby Smith that helped set up Rodriguez' touchdown, the Lions' first, with about two minutes left in the first quarter. Consecutive runs of 10, 15 and 17 yards by Cooper set the stage for Evans' TD catch early in the second quarter.
A fake field goal attempt with less than two minutes remaining in the first half made Wilson's scoring reception possible. Facing fourth-and-three from the Midwestern State 18, the Lions lined up to kick, but instead, a pass from sophomore Trever Lasseter to senior running back Theo Wofford gave A&M-Commerce a first down at the Mustangs' 12.
Two quick touchdowns from Midwestern State in the third quarter changed the atmosphere at Memorial Stadium from festive to tense. The Mustangs scored on their first possession when quarterback Quade Coward (14-26-1, 126, 1 TD, 8-44 rushing) connected with wideout Derek Lockhart in the end zone. A bad series from the Lions – three-and-out followed by a penalty and a shanked punt – gave Midwestern State possession at the home team's 14-yard line. Four plays later, Coward's fumble at the goal line was recovered in the end zone by Lockhart and suddenly A&M-Commerce's lead was down to a single touchdown with five minutes remaining in the third quarter.
But the Lions' defense rose to solve the Midwestern State offense in the final frame – although it took two turnovers to do it. A Mustangs drive that advanced to the A&M-Commerce 33 ended when senior defensive end Tyree Barton recovered an Orlando Haymon fumble. Midwestern State's next drive ended with Lindsey's interception of a pass by Hagen Hutchinson, who had stepped in to replace an injured Coward.
Having concluded conference play with a spotless record, the Lions will next face Division I opponent Sam Houston State in Huntsville on Oct. 31. Kickoff is set for 6 p.m., with complete coverage on KETR beginning with Charlie Chitwood and Brock Callaway presenting the pregame segment beginning at 5:30 p.m.